The  skies cleared…the people came…the planes flew…and the deed for 28 acres of land was transferred to the county, so it can be added to Cedar Creek Park.   Thanks to everyone who came to "The Sky's the Limit" celebration event on May 12.
Here are some scenes including the property deed delivered by drone!!
Mike Walsh, deputy secretary of the Pennsylvania Department of Conservation and Natural Resources spoke at the event.
Members of the Mon-Valley Radio Control Club put on an amazing airshow.
Drones with cameras and TV screens — along with radio-controlled model helicopters, jets, and giant-scale planes!!!
Kids' activities included customizing their own airplanes.
Wildflower walks were held.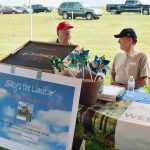 A Hubsan drone with FPV ($500 value) was raffled off.
Popcorn, hot dogs, and other fun foods were available, and the event was free and open to the public.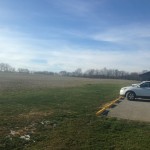 The new, 28-acre parcel of land we were celebrating will create a protective "buffer" for the Cedar Creek Gorge (behind the tree line), site of one of the best wildflower shows in western Pennsylvania, as well as new recreation opportunities for visitors, including hiking trails and more room for the radio-controlled model airfield (out of photo, to right).
The Westmoreland Land Trust and the Westmoreland County Bureau of Parks and Recreation raised the money for this land acquisition through competitive grants, one from the Pennsylvania Department of Conservation and Natural Resources' Bureau of Recreation and Conservation; and one from the Colcom Foundation. THANK YOU!