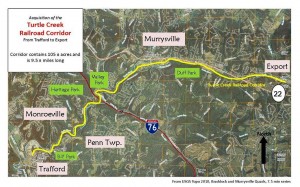 The Westmoreland Land Trust team was among the top-ten fundraising teams in the 2014 March For Parks event, raising nearly $2,000 to help build the Turtle Creek Trail.
This nearly 10-mile-long trail will run alongside Turtle Creek from the western edge of Lincoln Avenue in Export, all the way to Trafford, passing through Murrysville, Monroeville, and Penn Township along the way.
The Westmoreland Land Trust team raised $1,894 of the total $33,000 raised for the new trail project during the March for Parks event.
It is hoped that construction of the first leg of the new Turtle Creek Trail would begin in the fall of 2016.
In the longer-term future, the goal is to connect the eastern end of the Turtle Creek Trail to the Westmoreland Heritage Trail, allowing citizens to enjoy a 22-mile-long continuous corridor between Trafford and Saltsburg.
Some day, planners also hope to add a link between Trafford and the Great Allegheny Passage.  Doing so would create a continuous trail between Saltsburg and Washington, D.C.