Thanks to everyone who supported, helped, or participated in the Westmoreland Ramble, the October 17th afternoon celebration and optional morning road rally benefitting the Westmoreland Land Trust!  No rally experience was needed – for each car a driver and navigator was required, and a car could hold as many additional occupants as there were seatbelts.  Scoring was based on answers to questions about things seen along the route.  This was a fun way to enjoy Westmoreland's fall colors!  Photos and results from the rally are now available (all photos courtesy of Cary Bohl).
The afternoon celebration featured American roots music by the Newlanders, and food available for purchase from Pittsburgh Smokehouse and Earth Wheel and Fire (wood-fired pizza).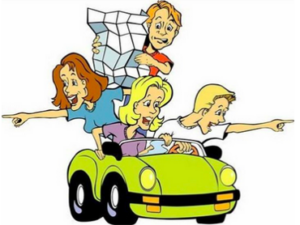 Many thanks to our sponsors:
Signature Sponsors Patrick and Lynn Gurrentz, Major Sponsors Spitzer Toyota/Scion and Gridiron Partners, and Sponsors SCORE Westmoreland, Quatrini Rafferty, Keytex Energy, and Hillview Motors.