---
 
Public Invited to Celebrate —                                        28 Acres Added to Cedar Creek Park
Drones with cameras and TV screens — along with radio-controlled model helicopters, jets, and giant-scale planes — will be flying at Cedar Creek Park, Rostraver Township, on Thursday, May 12 to celebrate the addition of 28 more acres of land to this popular Westmoreland County Park.
The public is invited to this "The Sky's the Limit" celebration, which will be held from 4 p.m. to 7 p.m. on the new property, which is located at the top of Cedar Creek Gorge and directly next to the park's radio-controlled airfield on Timm's Lane.
In addition to the action-packed air show conducted by members of the Mon-Valley Radio Control Club, other activities include balsa wood airplane flying contests and nature-journal-making for kids; wildflower walks in the beautiful Cedar Creek Gorge; and a raffle for a Hubsan drone with FPV ($500 value). Popcorn, hot dogs, and other fun foods will be available, and the event is free and open to the public.
"The Sky's the Limit" will begin with a deed-transfer ceremony and remarks from representatives of the Westmoreland County Commissioners, the Pennsylvania Department of Conservation and Natural Resources, the state legislature, and other dignitaries.
The Westmoreland Land Trust, a nonprofit organization that seeks to conserve open space in Westmoreland County is hosting the event.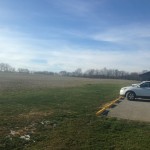 This new, 28-acre parcel of land will create a protective "buffer" for the Cedar Creek Gorge (behind the tree line), site of one of the best wildflower shows in western Pennsylvania, as well as new recreation opportunities for visitors, including hiking trails and more room for the radio-controlled model airfield (out of photo, to right).
The Westmoreland Land Trust and the Westmoreland County Bureau of Parks and Recreation raised the money for this land acquisition through competitive grants, one from the Pennsylvania Department of Conservation and Natural Resources' Bureau of Recreation and Conservation; and one from the Colcom Foundation.  THANK YOU!!!
 
Please help us conserve and steward Open Space in Westmoreland County.
On Tuesday, May 3, between 8 a.m. and midnight,
Go to www.westmoreland gives.org
Select WESTMORELAND LAND TRUST, Donate
Enter your information
Make a donation with your MasterCard or Visa (minimum $25)
All donations will earn **MATCHING Funds** from the Community Foundation of Westmoreland County.
And Westmoreland Land Trust is a 501(c)(3) charitable organization so your gift is tax-deductible under the provisions of the Internal Revenue Code, to the extent of the law.
Thanks to everyone who joined us to "March for Parks"



The Westmoreland Land Trust and the Westmoreland County Parks Department are partnering on several efforts that will add even more land and more fun to our free Westmoreland County parks.
One of these efforts is to develop a new walking/running/biking trail — the Turtle Creek Trail — that will extend from Export to Trafford.
We raised funds for this trail in late March during the March for Parks event.
2015 ANNUAL REPORT NOW AVAILABLE
Visit our Publications page or use this link.
Acquisition Provides Uninterrupted Access to                   Some

500 Acres of Natural Area


A 22-acre parcel that connects Duff and Pleasant Valley Parks. Read more about the acquisition.
---
Strategic Planning Under way
The Westmoreland Land Trust is currently nearing completion of its first-ever strategic planning process.
The majority of the trust's volunteer board members have been actively involved in this organizational assessment and planning tool, which is being facilitated by Arvind Paranjpe, president of Dynamic Leadership Ltd. Arvind has more than 30 years of experience in facilitating strategic planning, organizational consulting and CEO development.
During this process, the Westmoreland Land Trust has identified seven three-year goals and five key strategies for achieving them. Focus areas include:
Property selection
Revenue stream
Board of Directors and committees
Organizational identity
Organizational standards and practices
Participation in the creation of the Westmoreland County Comprehensive Plan
Staffing
SMART goals, which include measurable outcomes and deadlines for completion. have been identified for each key strategy.
---
Scenes from "The Pieces are Coming Together" Event



Westmoreland Land Trust Adds 75 Acres To Duff Park, Murrysville                        October 3, 2014