Thank you!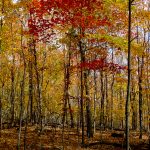 Thanks to all our donors, volunteers, and supporters!
We appreciate you, and look forward to working together to conserve more of Westmoreland County in 2018.
Aiken Named Executive Director
Betsy Aiken of Export has been named as the Westmoreland Land Trust's new Executive Director.

"It is important to me to do things that make a difference…that leave a legacy…and I believe that the Westmoreland Land Trust has great potential to do that," Aiken said.
Read More in the News section.
---
Upcoming Events
There are no upcoming events to display at this time.