---
THANK YOU, DONORS!
Thanks to everyone who supported our efforts to conserve open space in Westmoreland County.
We raised some $3,000 on the Day of Giving, Tuesday, May 5, and those donations will receive a share of a pool of matching funds.
2014 Annual Report Now Available — Click on "About WLT" tab, then Publications
Westmoreland Land Trust's Latest Acquisition

 

A 22-acre parcel that connects Duff and Pleasant Valley Parks
see News tab for details!
SCENES FROM "THE PIECES ARE COMING TOGETHER" EVENT
Westmoreland Land Trust Adds 75 Acres To Duff Park, Murrysville
October 3, 2014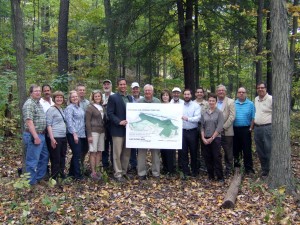 ---
How a community uses its land affects everyone who lives and visits there.
Citizens throughout Westmoreland County have stated that their number one priority is to retain the predominant rural character of our region.*
The Westmoreland Land Trust was formed in late 2007 to help accomplish this desire.
The independent, nonprofit, all-volunteer organization has the unique ability preserve a wide variety of types of land, such as:
land that offers scenic vistas,
tracts that help to create larger greenway corridors through the county,
land that has ecological, historical or cultural value, and
sensitive areas that are under pressure for development.
Preserving open space benefits our community in many ways by:
increasing nearby property values,
protecting natural systems,
promoting healthy lifestyles, and
attracting tourism.
*Citizen input on the direction of the county was obtained in a series of public meetings, and incorporated in the guidance document now being followed, the Westmoreland County Comprehensive Plan.