Please join us on Saturday May 18 from Noon to 4 PM for the After Paddle! Come to Gray Wing Park at the west end of West Main Street in New Alexandria, for a gathering with music by Triple Play, delicious food available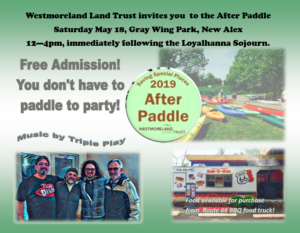 to purchase from Route 66 BBQ (and snow cones and baked goods from the New Alexandria Home Economics 4-H Club).  The After Paddle will immediately follow the Loyalhanna Sojourn, and will celebrate the Loyalhanna and land conservation.  Bring your lawn chair – admission is free, and you don't have to paddle to party!  
Thank you to all who support us!  Thanks to you our 2018 fund drive was a success!  And thanks to you we are able to complete work well beyond the capacity of our small staff!  Whether you have contributed funding or effort, your support of the Westmoreland Land Trust has made a big difference in our work to conserve land of special ecological, historic, scenic, or recreational value in Westmoreland County.
Help build a future where throughout Westmoreland County open space and recreational lands abound, water resources are protected, and wildlife flourishes.  Thank you to all the people and organizations that help our work, whether with a contribution or effort!
Welcome William Danchuk, William Mihalco, and Kodie Rearick
The Westmoreland Land Trust welcomes William Danchuk, William Mihalco, and Kodie Rearick.  William Danchuk and William Mihalco join the land trust as board members, and Kodie Rearick as an AmeriCorps Service Member.
Danchuk, an attorney who lives in New Florence, has worked for corporations including USX as well as founding his own companies related to safety, health, and the environment.  He is a woodworker who makes cherry and walnut classical furniture and a volunteer board member of the Loyalhanna Watershed Association.
Mihalco of Harrison City is a registered professional engineer who spent most of his career with Bettis Atomic Power Laboratory. His volunteer involvement includes service as an associate director of the Westmoreland Conservation District, a board member and secretary of the Turtle Creek Watershed Association, and vice chairman of the Penn Township Zoning Hearing Board.
Rearick graduated from Penn State University with a bachelor of science in wildlife and fisheries science. She joins the land trust with experience as a team leader/biological technician for Sanders Environmental Inc., a hunting control manager at a refuge in Maryland, and as a field data collection technician with Crawford Consulting Services in Pittsburgh.
---
Upcoming Events