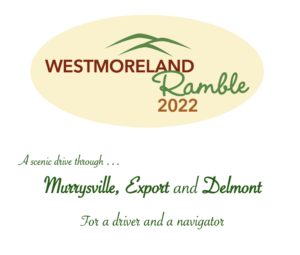 The 2022 Westmoreland Ramble is a scenic driving route through Murrysville, Export, and Delmont for a driver and a navigator.
Duration 50 minutes, Length 18.2 miles
Enjoy a printer-friendly version of this route as a brief introduction to Murrysville, Export, and Delmont and some of their beautiful facilities, parks, nature preserves, and historic sites.
Westmoreland Rambles are meant for your enjoyment, and are not meant to be comprehensive.  Corrections, refinements, and updates are always welcomed and valued.
We invite you to help develop a future Westmoreland Ramble for a scnic drive through your own Westmoreland County community.  Please contact us!