Board Member (Year joined board)
Cary Bohl (2021)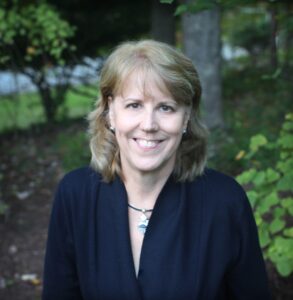 Cary grew up in Murrysville and graduated from Miami University of Ohio with a BS degree in Marketing. An avid equestrian, horses were an important part of Cary's formative years with many happy hours riding in the beautiful natural areas of what was then a rural community. Growing up outdoors nurtured a life-long desire to protect the environment and help to conserve important habitat.
Cary has served as a long time member and past president of the Westmoreland Conservancy, as a long time member of the Environmental Advisory Board for the Municipality of Murrysville, and on several arts-related boards in Pittsburgh. Cary currently serves on the Citizen's Advisory Board of Westmoreland County Parks and Recreation, and while on vacation volunteers as a shorebird steward and as a member of the Loggerhead turtle patrol.
Cary and her husband Ken live in Murrysville where they raised three boys.  She enjoys gardening and loves to kayak, hike, bike and travel. Other interests include music, reading, bird watching and nature photography.
Fred Bononi (2017)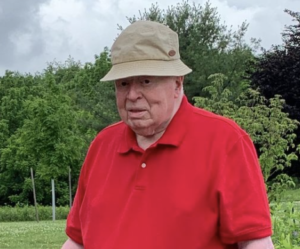 Fred is a lifelong resident of Greensburg who attended Saint Vincent College and graduate school at the University of Pittsburgh. Fred is retired from work as a Certified Public Accountant and co-owner of an accounting firm which conducted independent audits of civic, non-profit, and religious organizations as well as school districts and privately owned business entities.
Fred is retired from boards of for-profit and non-profit entities, including serving for 20 years as a member of SCORE Chapter 555 at Saint Vincent College. Fred serves as chairman and board member of the local cemetery.
Fred and Norine have three children, three grandchildren and one great-grandchild. Fred enjoys studying provisions and interpretation of the Internal Revenue Code.
Douglas W. Chew (2020)

Doug grew up on a dairy farm in Hempfield Township, graduated from Hempfield Area High School, and studied biochemistry, biophysics, and chemistry at the University of Pittsburgh. He served at Pitt as a faculty member teaching molecular biology and biochemistry for 11 years starting in 1992, and then as a faculty and research administrator at Pitt's School of Medicine starting in 2010.
Doug served as an elected auditor in Hempfield Township for 6 years, and has served as a Westmoreland County Commissioner since January 2020.
Doug and his wife Cyndi live on a farm in Hempfield Township, and have three sons: Joe, Andy, and Luke. In his spare time Doug enjoys the outdoors and spending time with his family.
Robert Cronauer (2022)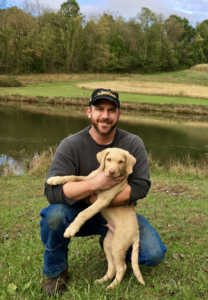 Rob's goal is to help the Westmoreland Land Trust improve Westmoreland County.  Growing up in rural Pennsylvania, his childhood pursuits often found him outdoors hunting, fishing, and playing in the mud.  Through these experiences he began thinking of a career that involved nature and the environment – specifically, helping to preserve the natural environment.
Rob has a B.S. in Wildlife and Fisheries Science at Penn State.  He serves as the Westmoreland Conservation District District Manager/CEO, where his work includes a focus on improving water quality by advancing conservation principles through education, examples, and programs, to improve the environmental health of Westmoreland County.  Rob is a board member of the Sewickley Creek Watershed Association and the Westmoreland Heritage Trail.
William Danchuk (2018)
Bill grew up in the lower East Side of New York City and then Bay Shore on southern Long Island. He studied at Union College for a B.S. in Physics and Math, and at Boston University School of Law for a J.D.
Bill started work as a patent associate and then patent attorney for Polaroid. Subsequently, he worked for U.S. Steel as a patent and licensing attorney, then as assistant manager of compliance. Also in his career, he started safety, health, and environmental firms; became director of environmental compliance for CNG and Dominion Energy; founded a firm to provide oil and gas lease and litigation work to farmers, companies, and non-profits; and started a company for fueling school buses with natural gas in addition to diesel and changing both the diesel engine and transmission to handle both fuels continually for greater efficiency.
Bill worked with the PA Environmental Council educating members of industry regarding renewable energy, and has written legislation for the U.S. and PA governments about chemical regulation and compliance. Bill serves on the board of the Loyalhanna Watershed Association.
Bill and Cynthia live in New Florence, and have two daughters and two grandchildren. In his spare time Bill makes cherry and walnut classical furniture, and is a beekeeper.
Alyson Fearon (2019)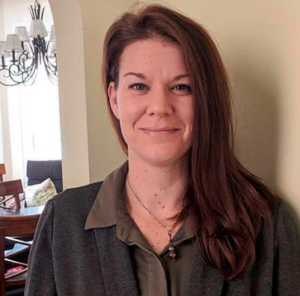 Alyson is originally from Oshkosh, Wisconsin but has lived all over the country and world and came to this area in 2013 with her husband to be near extended family. Alyson has a B.S. in Environmental Science with a concentration in Sustainability (2014) and a Master of Sustainability and Master of Business Administration (2018) from Chatham University. She possesses over 20 years of combined work experience in various roles with the military and private sector and joined ALT in 2017. Alyson is now the Vice President of Land Conservation for the Allegheny Land Trust and the lead on land use research projects; new resiliency efforts like carbon credits; and non-traditional conservation efforts such as community garden preservation and urban greening. She is also an International Society of Sustainability Professionals certified Sustainability Associate and works as an Adjunct Instructor for her Alma mater.
Alyson's husband, teenaged daughter, two cats and two dogs keep her actively engaged at their new home in Murrysville. She also enjoys exploring new cuisines, working to improve habitat on their property, and generally being outdoors.
Brian Lawrence (2014)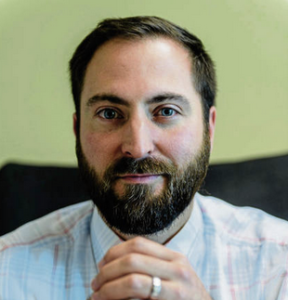 Brian grew up in Hempfield Township, and studied at Indiana University of Pennsylvania for a B.A. in political science and an M.S. in geography with a regional planning concentration. Brian has worked at the Indiana County Office of Planning and Development, the Smart Growth Partnership of Westmoreland County, and as a legislative aide for the PA House of Representatives. Brian is currently the deputy director of the Westmoreland County Department of Planning and Development, where he directs the department's GIS mapping, graphic and data analysis, the Technical Resources & Municipal Services Program, and serves as the HOME Program coordinator.
Brian is a member of the American Planning Association, and serves on the board of the Regional Trail Corporation.
Brian and Julie live in Greensburg and have three daughters. Brian's hobbies or interests include ice hockey, home renovation and live music.
John Lohr (2008 for first set of terms & 2023)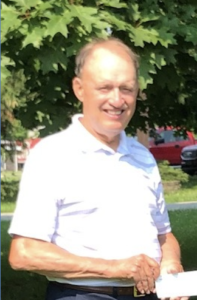 John grew up in Mount Pleasant Township, and studied at the University of Pittsburgh for a B.S. in mathematics and an M.A. in education.  John taught math at the Derry Area High School and the Central Westmoreland Career and Technology Center, then worked for the United States Department of Agriculture as the executive director of the Westmoreland/Fayette Farm Service Agency (FSA) office for 37 years until his retirement in 2013.
John is a past president of the National Association of FSA County Office Employees, and received the FSA Administrator's Award for Service to Agriculture for his work in establishing the Westmoreland County Agricultural Land Preservation Program.  John currently serves as an associate director of the Westmoreland Conservation District and works part time helping to provide retirement and benefit training, products, and services to members of the National Association of FSA County Office Employees.
John and Carol live in Norvelt, and have three children and three grandchildren.
Andrew L. Mack (2019)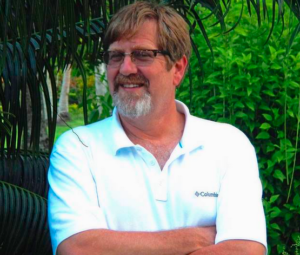 Andy grew up in Lancaster Pa and is a conservation biologist with a Ph.D from the University of Miami. He has worked for Conservation International, the Wildlife Conservation Society, Academy of Natural Sciences and the Carnegie Museum of Natural History.
Andy now works for Penn State University and has taught classes at Chatham University, Indiana University of Pennsylvania and Penn State. His research has spanned many topics, but with a emphasis on birds and tropical rainforests.   He developed a major conservation program in Papua New Guinea.
Andy now lives near Ligonier with his wife Lydia, who is an artist. In his spare time he enjoys observing birds and nature photography.
William Mihalco (2018)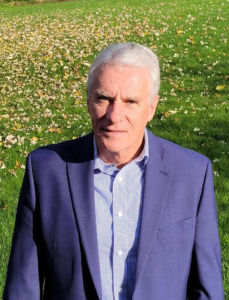 Bill grew up in North Versailles and studied at the University of Pittsburgh for a B.S. in biology, an M.S. in water pollution control (at Pitt's Graduate School of Public Health) and an M.S. in civil/environmental engineering. Bill has worked for the Allegheny County Health Department, Ackenheil Engineers, and as the manager of environmental engineering for Bettis Atomic Power Laboratory.
Bill serves as an associate director of the Westmoreland Conservation District, a board member of the Turtle Creek Watershed Association and the Penn Township Zoning Hearing Board, and is a member of the Allegheny County Local Emergency Planning Committee.
Bill and Kathy live in Harrison City, and have two daughters, four grandchildren and one great niece. In his spare time Bill enjoys spending time with the family, hunting, and training his Brittany for bird hunting.
Kim Miller (2021)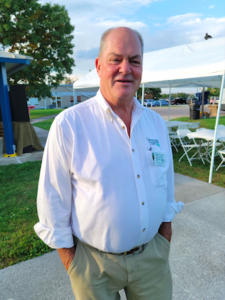 Kim was born in Mt. Pleasant in 1955, graduated from Southmoreland in 1973, and graduated from the Wharton School at the University of Pennsylvania in 1977.
He worked in administration for Morrison Knudsen from 1977 to 1979, in the Congo. From 1980 to 1988 he operated a construction and development company (KMC), and in the early 1990s operated a communications company with partners. Kim has completed construction or development projects in Pittsburgh's North Side, Uptown, Shadyside, Penn Township, Murrysville, Salem and Unity Townships.
In 1991 Kim bought a farm in Salem Township and began raising grass-fed beef, then bought Kananga Farm in Ligonier in 2008 and began full time farming. He donated and built the Conservation District barn as a volunteer.
Kim currently serves as Treasurer on the board of the Westmoreland Conservation District and as Chair of the Smart Growth Partnership of Westmoreland County. He has served as past board chair of the Pennsylvania Association of Sustainable Agriculture, past board chair of the Laurelville Retreat Center, and past president of the Pennsylvania Farmers Union.
Kim has an interest in the visual arts and is a collector of paintings and sculpture.  He also enjoys music and sang with the Mendelssohn Choir of Pittsburgh for 13 years.
Jack Paulik (2022)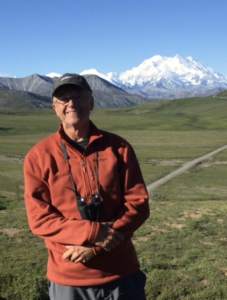 Jack grew up near West Newton, and graduated from West Virginia University and Penn State University with degrees in Forestry and Resource Management.  He worked as the Westmoreland County Parks Development Coodinator for 30 years, overseeing county park and trail development.
Jack is a founding member of the Regional Trail Corporation and a board member of the Great Allegheny Passage Conservancy.  He worked as Project Manager to complete the last 10 miles of the Great Allegheny Passage between McKeesport and the Waterfront, and presently serves as the towpath improvements design consultant for the C&O Canal Towpath.  Jack is also a practicing consulting forester.
Jack and his wife Debbie live in Derry Township, and have 3 children and 6 grandchildren.
Patrick Roberts (2020)
Patrick grew up in the hills and creeks of Home, PA in Northern Indiana County. From an early age he had an interest in all things natural and spent much of his free time exploring, fishing, hunting, camping, and hiking. After graduating from Marion Center High School he received his B.S. in Biology/Secondary Science Education from Grove City College, and later earned a master's degree in curriculum and instruction from McDaniel College, MD.
Patrick has taught in three districts in Pennsylvania and Maryland, and currently teaches at the Latrobe Senior High School. He teaches biology and an honors Capstone environmental course specializing in field work and conservation.. He has previously taught courses in horticulture and general science courses covering earth, physical, and life sciences. Patrick has worked on and off for 11 years as a research scientist with the Western Pennsylvania Conservancy, focusing primarily on Eastern Hellbender research and conservation.
Patrick's interests still include all things natural, as well as home improvement projects and maintaining a family farm near Indiana, PA. He has two older sisters, five nieces, and his parents still live in Home, PA. He currently lives with his wife Brandy in Greensburg, PA.
Joseph Romano (2019)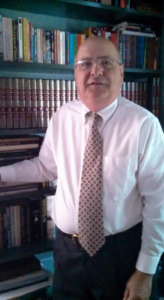 Joe was born in Pittsburgh and has lived in Ohio, West Virginia, and Upstate New York. He is a graduate of Indiana University of Pennsylvania, having earned both a B.S. in Regional Planning and a M.A. in Geography there. Joe is a retired transportation and environmental planner and a past member of the American Planning Association and the American Institute of Certified Planners (AICP).   He has worked in both the public and private sectors. During the late 1980s and early 1990s, he headed the Westmoreland County Transit Authority as its executive director.
Joe has served as President of the Westmoreland Arts and Heritage Festival and the Health and Welfare Council. He has also been an active member of the Pennsylvania Planning Association and the West Virginia Chapter of the American Council of Engineering Companies.
He and his wife, Chris, have lived in Greensburg for over 35 years. They have one daughter.
Brandon Simpson (2020)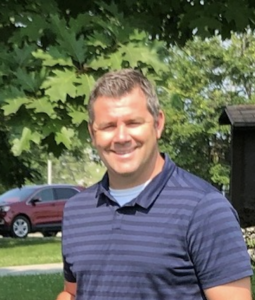 Brandon grew up near Clarion, PA and studied at California University of Pennsylvania for a M.S. in Sport and Recreation Management. After graduation Brandon worked as the Program Coordinator for Latrobe-Unity Parks & Recreation organizing, planning and implementing recreation programs. In 2013, Brandon was hired as the Program Coordinator for the Westmoreland County Bureau of Parks and Recreation. In 2018, Brandon became the Assistant Director of Parks & Recreation for the Bureau and in 2020 he became Director of Parks & Recreation, overseeing 10 parks consisting of more than 4,000 acres of parkland.
Brandon serves as President of the Westmoreland County Parks & Recreation Alliance, Treasurer of the Regional Trail Corporation, and as a board member of the Westmoreland Arts & Heritage Festival. In 2016, Brandon received certification as a parks and recreation professional through the National Recreation & Parks Association.
Brandon and his wife Alicia reside in Unity Township, and have two children. In his free time Brandon coaches baseball and football for local youth leagues. He also enjoys hunting, fishing, recreational sports, and all things outdoors.