Betsy Aiken – Executive Director

Betsy grew up in Pleasant Hills and Fox Chapel.  She studied at the University of Pittsburgh for a B.A. in English Literature and an M.B.A. in Operations Research.  Betsy's experience includes managing Quality Assurance for a precision manufacturer, serving as Chief Administrator for the Municipality of Murrysville, and work in a small strategic planning consulting practice.
Betsy has served on Murrysville's Parks & Recreation Commission, the PA Trails Advisory Committee, the boards of the Westmoreland Conservancy and the Smart Growth Partnership of Westmoreland County, and as a founding member of Friends of Murrysville Parks and the Murrysville Trail Alliance.  She serves on WeConservePA's Policy Advisory Committee and the Citizen's Advisory Board for Westmoreland County Parks and Recreation.
Betsy and her husband Arvind Paranjpe live in Murrysville.  In her free time Betsy enjoys travel, gardening, hobby farming, and spending time outdoors.
Brian Jones – Manager of Operations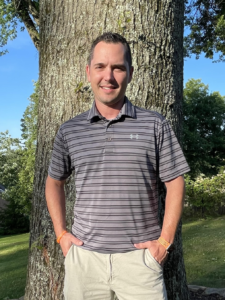 Brian worked as the Land Stewardship Coordinator for the Western PA Conservancy for many years.  He has extensive knowledge of land management and bird, plant, and animal life.  He most recently managed the physical facility for the Westmoreland Museum of American Art.
Brian has been a member of the Loyalhanna Watershed Association (LWA) since 2014, and is an active member of the LWA Land Stewardship Committee.  He is a resident of Latrobe with his wife Cindy and twin daughters Mackenzie and Madelyn.
Loree Speedy – AmeriCorps Service Member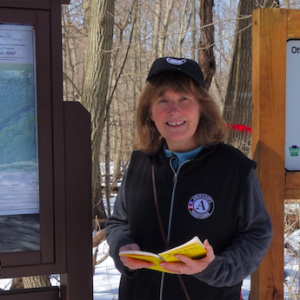 Loree grew up in Avonmore. She studied at Chatham College for a B.A. in mathematics and at Indiana University of Pennsylvania for an M.S. in geography and regional planning.  Loree is a botanist and cartographer, and has performed botanical services for Carnegie Museum, the PA Natural Heritage Program, Kinzua Quality Deer Cooperative and environmental consulting firms. She has also conducted botanical research to examine climate change effects and conservation statuses of native plants, and has co-authored checklists of the flora of Westmoreland, Washington, Indiana and Fayette counties.
Loree is an active member of the Botanical Society of Western Pennsylvania and the Pennsylvania Rare Plant Forum, and has served on the board of directors of Downtown West Newton, Inc. and Rachel Carson Homestead.
Loree and her husband Mark Bowers live in West Newton. Her interests include walking the beagles, botany, and geography.
AAron Capouellez – AmeriCorps Service Member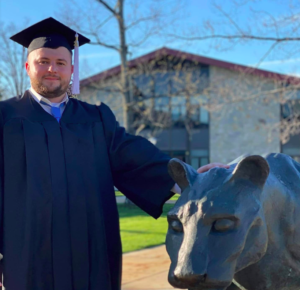 AAron Capouellez grew up in Cambria County. He studied at Penn Highlands Community College and the University of Pittsburgh at Johnstown for a B.S. in Communications, and is currently pursuing an M.S. in biology the Indiana University of Pennsylvania.
AAron has led a college club at Penn Highlands Community College, and served as Student Body Vice President at Penn Highlands Community College.  He lives in Johnstown, PA, with his parents, and volunteers with a local youth group.  He has previously served as an AmeriCorps Service Member for the Conservation District of Cambria County.
AAron is particularly interested in frogs and toads native to Pennsylvania, and in his free time he maintains a YouTube Channel, PA Woods and Forests.  He also enjoys spending time with his family, girlfriend, and friends.  AAron spells his name with two capital A's to honor his parents, who used that spelling.