Betsy Aiken – Executive Director

Betsy studied at the University of Pittsburgh for a B.A. in English Literature and an M.B.A. in Operations Research.  Betsy's experience includes managing Quality Assurance for a precision manufacturer, serving as Chief Administrator for the Municipality of Murrysville, and work at a strategic planning consulting practice.
Betsy has served on Murrysville's Parks & Recreation Commission, the PA Trails Advisory Committee, the boards of the Westmoreland Conservancy and the Smart Growth Partnership of Westmoreland County, and as a founding member of Friends of Murrysville Parks and the Murrysville Trail Alliance.  She serves on WeConservePA's Policy Advisory Committee and the Citizen's Advisory Board for Westmoreland County Parks and Recreation.  Betsy and her husband Arvind Paranjpe live in Murrysville.  In her free time she enjoys travel, gardening, hobby farming, and spending time outdoors.

Karen Rose Cercone – Operations Assistant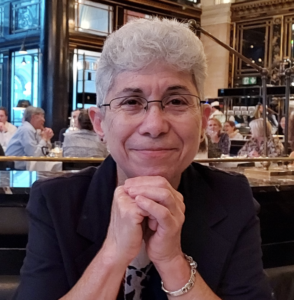 Karen Rose joined the Westmoreland Land Trust after teaching geology for many years at Indiana University of Pennsylvania. She is a native of Westmoreland County and a graduate of Penn-Trafford High School.  Karen Rose received her AB from Bryn Mawr College and her PhD from the University of Michigan, and later went on to earn an MFA in Fiction from the University of Pittsburgh.  She brings experience in citizen science, volunteer tracking, relational databases, and accreditation to the land trust along with a life-long zeal for organization.
Karen Rose is working toward certification as a Penn State Master Watershed Steward.  She is also a member of the Westmoreland Bird and Nature Club, the Turtle Creek Watershed Association, and the Westmoreland Heritage Trail.  When she is not doing citizen science projects such as Stream Team, Salt Watch, Firefly Watch, and the Christmas Bird Count, Karen Rose spends her time training her border collies Mica and Lena for obedience and agility trials.
Paula Purnell – Coordinator of Educational Programming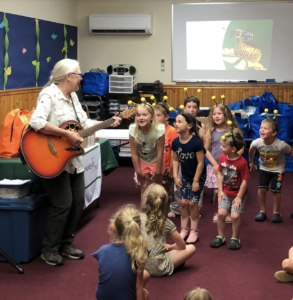 Paula Purnell, D. Ed., brings years of experience in educational research, project development and assessment, environmental education, and arts integration to the Westmoreland Land Trust.  Dr. Purnell maintains Sense of Place Learning, LLC to raise awareness, knowledge, and appreciation of the unique ecology, history, heritage and artistic works of the places in which we live.  Paula served as an Assistant Professor in the Professional Studies in Education Department at Indiana University of Pennsylvania.
Paula is also an accomplished musician who has released eight albums of original music, including three Parent's Choice award-winning children's albums. With her band The NewLanders, Paula researches, records, and performs roots music of western Pennsylvania. She lives in Greensburg with her husband Bruce Adamson.
Sarah Poklembo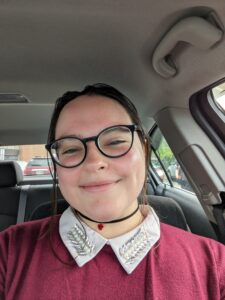 From September 5th 2023, Sarah Poklembo has assisted the WLT as an AmeriCorps Service Member.  Sarah is a graduate of Juniata College with a B.A. in Environmental Advocacy. Sarah previously served as a member of the Loyalhanna Watershed Youth Conservation Corps and comes to WLT from Westmoreland Cleanways and Recycling.  Sarah lives in Derry and brings experience in field work, environmental education, and nonprofit administration.